Optimiser™ technology improves immunoassays through the power of microfluidics, dramatically improving immunoassay performance across a wide spectrum of measures. Optimiser™ technology provides enhanced sensitivity, simplified workflow, improved assay throughput and significant reduction in assay reagents, including the utilization of precious samples.
| | 96-well plate | Optimiser™ Microfluidic Technology | Comparison |
| --- | --- | --- | --- |
| Sensitivity (LoD)1 | 1 pg/ml | 4 fg/ml | 250 x Sensitive |
| Reaction time (total assay)2 | 5-6 hours | 10 minutes | 200 x Faster4 |
| # of steps for sandwich assay | 13 | 7 | 2 x Simpler |
| Reagent costs per plate3 | $71 | $5.40 | 15 x Cheaper |
| Volume per well per assay step | 100-300 μl | 1 μl (up to 150 μl) | 100 x Less5 |
1. Using 100 ul sample with repeat loads for model IL-4 assay; 2. Pre-coated plates ; 3. Assuming cost (~ $300/100 ug) with chemifluorescence mode detection 4, 5 – on automation system only
Plate or Platform?
The Optimiser™ technology platform requires no purchase of additional capital equipment or change in reagents. The Optimiser™ platform was specially designed to be as simple to use as a standard microplate.
Optimiser™ technology is so easy to adopt because it is embedded into ANSI/SBS compliant 96-well microtiter layout.
So How is Optimiser™ Technology different from conventional plates?

The wells in the Optimiser™ microfluidic platform are only used for reagent loading. (a.)
All assay reactions occur in the 200 x 200 micron microfluidic reaction chamber under each loading well. (b.)
Traditional wash steps replaced by simple flush. (c.)
A fluorescent reader is required.
How do Optimiser™ Microchannels Improve Performance?
Optimiser™ Microchannels, compared to conventional plates provide a 50% increase in surface area and a 50X increase in surface area to volume ratio –together with dramatically reduced diffusion distances results in increased surface binding and rapid assay kinetics. In addition, the microchannels eliminate the need for traditional wash steps.
https://micobiomed-usa.com/images/pdfs/022912_optimiser.pdf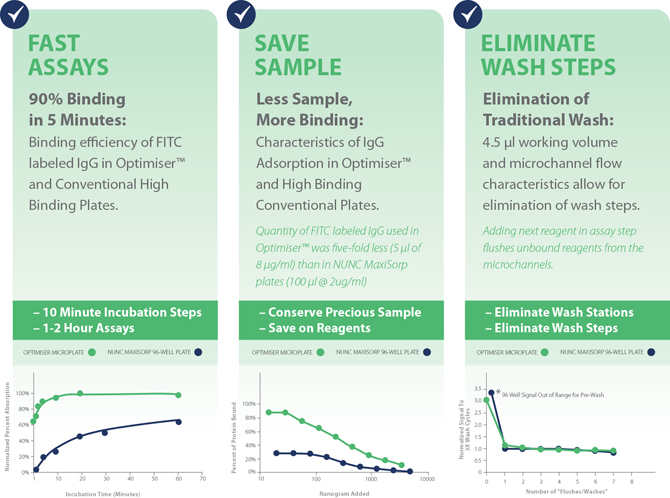 Optimiser™ Technology is easily and seamlessly transferable to POCT and STAT testing systems.