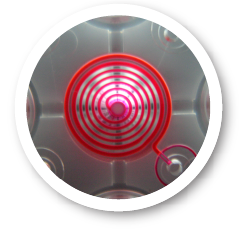 Automating ELISAs on Tecan's Freedom EVO® using Optimiser™ technology from MiCo BioMed
MiCo BioMed' OptiMax microplates, based on the Optimiser technology platform, combined with Tecan's Freedom EVO® workstation allow you to perform rapid, highly sensitive ELISAs while keeping your sample uptake to an absolute minimum.
Attaining Femtogram Level Sensitivity with Optimiser™ Plates and BioTek Instruments:
Amplifying Immunoassay Sensitivity with the Optimiser™ Microplate Technology Repetitive Sample Loading of the Optimiser Microplate Allows for Amplification of Assay Sensitivity from Picogram/mL Levels to Femtogram/mL Levels.
Application of Novel Optimiser™ Immunoassay Technology to the Rapid, Sensitive, and Specific Measurement of Human IL-6 in Tissue Culture Supernatants.
Optimiser™ based assays using the chemiflourescent OptiGlow™ substrate typically offers the same dynamic range as conventional ELISA. With a simple change to the reagent preparation procedure for only the OptiGlow™ substrate, the dynamic range of ELISAs on Optimiser™ can be extended by approximately 10 fold. Application note AN0015 demonstrates a Human IL-6 assay with a dynamic range of 2.7 pg/ml to 2000 pg/ml.