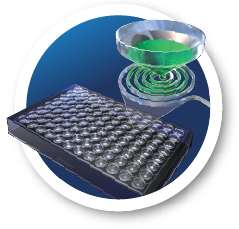 MiCo BioMed has developed a comprehensive portfolio of products and services that make adoption of Optimiser™ technology seamless. Click on the Product Categories below to learn about our award winning OptiMax™ automation plates, easy to use adoption kits, assay support services, and more.
OptiMax™ automation plates incorporate Optimiser™ technology in an automation friendly format for even greater enhanced throughput, sample savings, and sensitivity. OptiMax™ plates have already been verified with Tecan Freedom Evo®, BioTek Precision, BioTek FX, and Hamilton MicroLab Star systems.
OptiMax™ Automation Plates coated with NeutrAvidin, and blocked to prevent nonspecific binding are the ideal choice for binding biotinylated antibodies or capture probes.
OptiMax™ Automation ELISA Plate Adoption Kits provide all the materials and methods required to adapt your immunoassay from conventional 96-well or 384-well ELISA plate format to OptiMax™ microfluidic plate format in just three easy steps, requiring less than a day to perform. This kit enables optimization of the assay (including coating buffer selection, antibody cross-titration, and dynamic range definition) entirely using robotics and automated pipetting from start to finish; no manual assay work is required.
Adoption kit for first time users: designed to allow users to practice pipetting to Optimiser™, run a trial sandwich immunoassay, and (Evaluation Kit only) transfer a validated conventional 96-well ELISA protocol to Optimiser™
Buffer reagents system optimized for use with Optimiser™ to ensure quality results
Revolutionary ELISA microplate to maximize sensitivity, reduce sample/reagent volume requirements, and deliver assay results in less than 2 hours
Complete ELISA kits Powered by Optimiser™ to deliver all the performance of Optimiser™ technology with no guesswork
MiCo BioMed's ELISA Transfer Service is simple and allows you to realize the benefits of Optimiser™ with no effort. For a modest fee, MiCo BioMed will develop an Optimiser™ based protocol for the assay of your choice.