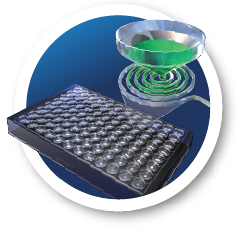 Optimiser™ microplates provide a solution that maximizes sensitivity, reduces sample/reagent volume requirements, and delivers assay results in less than 2 hours.
The Assay Transfer Guide provides a step by step approach for successful transfer of an ELISA from a conventional 96 well plate to Optimiser™.
Clicking the catalog # for each product will open the product manual.
Optimiser™ microplate with holder
| Catalog No. | Product Name | Price | |
| --- | --- | --- | --- |
| OPH-2 | 2-plate Optimiser™ pack with holder (includes 4 pads) | | Currently out of Stock |
| OPH-10 | 10-plate Optimiser™ pack with holder (includes 20 pads) | | Currently out of Stock |
| OPH-50 | 50-plate Optimiser™ pack with holder (includes 100 pads) | | Currently out of Stock |
Optimiser™ microplate only
| Catalog No. | Product Name | Price | |
| --- | --- | --- | --- |
| OP-02 | 2-plate Optimiser™ pack (includes 4 pads) Does not include holder | | Currently out of Stock |
| OP-10 | 10-plate Optimiser™ pack (includes 20 pads) Does not include holder | | Currently out of Stock |
| OP-50 | 50-plate Optimiser™ pack (includes 100 pads) Does not include holder | | Currently out of Stock |
Optimiser™ accessories
Catalog No. Product Name Price
| Catalog No. | Product Name | Price | |
| --- | --- | --- | --- |
| H-1 | Holder for Optimiser™ plate | | Currently out of Stock |
| P-50 | 50 absorbent pads | | Currently out of Stock |