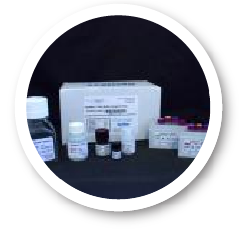 OptiMax™ Buffers and Reagents are specially formulated for use with Optimiser™ microplates. The ultra-high sensitivity Optimiser™ microplate system requires the use of equally high grade reagents and MiCo BioMed has specially designed these buffers/detection substrates to maximize the performance of the Optimiser™. The use of optimal coat buffer is crucial to ensure high sensitivity on the Optimiser™ and each of the OMR sets is supplied with a specific coat buffer (A-L). The OMR-TEST product contains a panel of all 12 coat buffers and detailed instructions for how to select the correct coat buffer for your assay.
Due to the exquisite sensitivity of Optimiser™ systems, use of appropriate SAv-HRP concentration with characterized HRP activity is critical. OMR-HRP has been characterized and is approved specifically for use with Optimiser™ microplates.
The Assay Transfer Guide provides a step by step approach for successful transfer of an ELISA from a conventional 96 well plate to Optimiser™.
Clicking the catalog # for each product will open the product manual.
OptiMax™ Buffers and Reagents
Catalog No.
Product Name
Price
OMR-02#
OptiMax™ 2-Plate Reagent
Currently out of Stock
OMR-10#
OptiMax™ 10-Plate Reagent
Currently out of Stock
OMR-50#
OptiMax™ 50-Plate Reagent
Currently out of Stock
OMR-TEST
OptiMax™ Test Buffers to Determine Optimal Antibody Coating
Currently out of Stock
OMR-HRP
OptiMax™ Streptavidin-HRP for use with Optimiser™ Microplates
Currently out of Stock
Poly-HRP
Polymerized SAv‐HRP for Optimiser™ and OptiMax™ microplate for enhanced sensitivity (lower LOD).
Volume sufficient for 5 plates.
Currently out of Stock
OM-052X (A-L)
OptiBind™ – X (A-L); 10 mL bottle
Currently out of Stock
1 bottle
Currently out of Stock
2-9 bottles (ea.)
Currently out of Stock
10+ bottles (ea.)
Currently out of Stock
OM-054
OptiWash™; 60 mL bottle
Currently out of Stock
1 bottle
Currently out of Stock
2-9 bottles (ea.)
Currently out of Stock
10+ bottles (ea.)
Currently out of Stock
OM-055
OptiBlock™; 30 mL bottle
Currently out of Stock
1 bottle
Currently out of Stock
2-9 bottles (ea.)
Currently out of Stock
10+ bottles (ea.)
Currently out of Stock
OM-201
OptiGlow™;
OptiGlow-A (5 mL), OptiGlow-B (5 mL), OptiGlow-C (1 mL)
Currently out of Stock
1 unit (ea.)
Currently out of Stock
2-9 units (ea.)
Currently out of Stock
10+ units (ea.)
Currently out of Stock