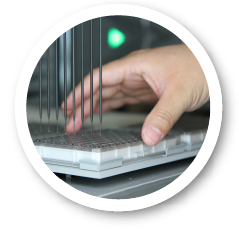 MiCo BioMed is proud to be supported by renowned experts in biochemistry, pathology, clinical medicine, proteomics, control systems, material science, magnetic MEMS, and material science. MiCo BioMed's Scientific Advisory Committee includes:
Dr. Brian Gibler, MD
Dr. Brian Gibler served as the Richard C. Levy Professor of Emergency Medicine and Chairman of the Department of Emergency at the University of Cincinnati College of Medicine, and as the Director of the Center of Emergency Care at the University of Cincinnati Hospital. Dr. Gibler also served as the Medical Director for the Emergency Medicine Service Line of the Health Alliance of Greater Cincinnati. His research interests have focused on Cardiovascular Emergencies – both diagnosis and treatment in the emergency setting. He has held these positions since 1995. In October of 2010, Dr. Gibler was named CEO of University Hospital.
Dr. Edward Jauch, MD
Dr. Edward C. Jauch is currently an Assistant Professor of Division of Emergency Medicine & Department of Neurosciences at the Medical University of South Carolina. Dr. Jauch's primary area of research is in the identification and development of biomarkers for neurologic emergencies. Dr. Jauch has performed clinical research of biomarkers in acute stroke and traumatic brain injury.
Dr. Kyung A. Kang, PhD
Dr. Kang is a Professor, Chemical Engineering Department at the University of Louisville. She has been involved in immuno affinity separation for more than 20 years, and in developing various immuno-optical biosensors and other bio-optical devices over the past 10 years.
Dr. Joseph Clark, PhD
Dr. Clark is an Associate Professor, Department of Neurology at the University of Cincinnati. He is also an Adjunct Assistant Professor; Department of Molecular and Cellular Physiology, Faculty Member; Neuroscience Program and Faculty Member; Physician Scientist Training Program. His research focuses on the study of the causes of cerebral vasospasm, typically that following subarachnoid hemorrhage (SAH) and to study the mechanisms of cerebral vascular and cardiovascular diseases such as these at the chemical/biochemical and cellular level and correlate these observations to the clinical condition.