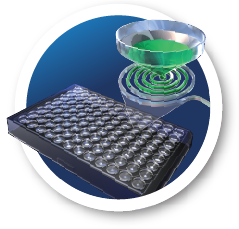 Ever since our establishment in 2009, MiCo BioMed has been committed to improving and saving lives by offering innovative IVD technologies in clinical chemistry, immunoassay and molecular diagnostics, and to developing Lab-on-a-Chip based point-of-care testing encompasses any tests that are performed at or near a patient and at the site where care or treatment is provided.
MiCo BioMed USA (formerly Siloam Biosciences) is focused on developing a next generation diagnostics and life sciences platform using innovative microfluidics for immunoassays.
MiCo BioMed's market-proven Optimiser™ technology integrates the power of microfluidics into easy-to-use high- medium- and low-throughput platforms, as well as allows for manual testing using the same assay disposables. Over 70 assays have been developed using the Optimiser™ technology platform, proving the robustness and universal nature of this platform.
MiCo BioMed invites diagnostic and life science companies to learn about our Optimiser™ technology.
Our proven Optimiser™ microfluidic platform is already commercially offered to the life science market. It provides users unheard of enhancements in automation workflow, and improved assay throughput. ELISAs use sample sizes of less than a drop of blood (3 to 5 uL). Optimiser™ technology allows users to tune their assay, typically with no change in their own or commercially available reagents.