Automation Performance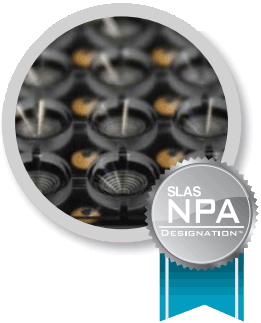 Tecan Freedom Evo® System Compatible
What can your plate do with automation in an hour?
OptiMax™ Plates can achieve:
Rapid time-to-result, high throughput
200 to 10,000 fold sensitivity increase
Multi-analyte detection using ultra-low sample volumes
Integrating OptiMax™ with Tecan Freedom EVO allows:
Reduced instrument complexity (no washer, shaker, incubator)
More plates on deck – more data per run
Ultra-low volume assays (only 1 μl sample volume required)
Rapid results: Run up to 3 sequential experiments in one day!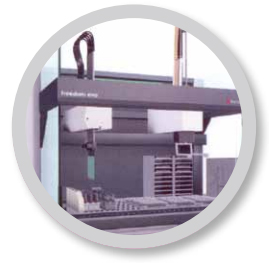 Throughput, Sample Savings & Multi-Analyte Detection:
Maximize Throughput: The rapid assay kinetics of Optimiser™ Technology and the precision of Tecan Freedom EVO enables efficient throughput of multiple samples.



Assay Protocol: 30 Minute beta hCG Protocol with analysis of 32 beta hCG Samples in male human sera using OptiMax™ plates and Tecan Freedom EVO system and Tecan M200 Reader



Saving Sample: Achieve picogram sensitivity with only 1 μl samples.



Assay Details: Various concentrations of spiked mouse IL-2 serum (diluted 1:1 in assay diluent) were measured with volumes ranging from 1 to 5 μl. 1 μl samples show the same sensitivity as 5 μl samples. Also load volumes of 2μl (sample volume 1 μl) or more show good precision. Precision tested with 20 replicates for three sample concentrations. C.V. at 2 μl volume is <10%. Total assay time = 58 minutes.
Multi-Analyte Detection: Test multiple analyte panels using OptiMax™ Plates and the Tecan Freedom EVO System.
Run a 6-analyte panel with only 24 μl of sample
Run up to 40 samples per panel* in only 2 hours
*Potential to run up to 16 analyte panels (4 μl per analyte)
A 6-analyte Ovarian Cancer Panel* was used for the evaluation. 8 samples were tested in a 2 hour assay. Note that program allows for up to a 40 sample analysis in a 2 hour protocol. Representative correlation curves of Human Leptin and IGFII are shown below. A separate OptiMax™ Plate is used for each analyte.
*Analytes include: Human Leptin, Osteopontin, Macrophage Inhibitory Factor, Prolactin, IGFII, CA125


Ultra-Sensitive Assays:
Sensitivity: Ultra-sensitive assays with less sample in about an hour.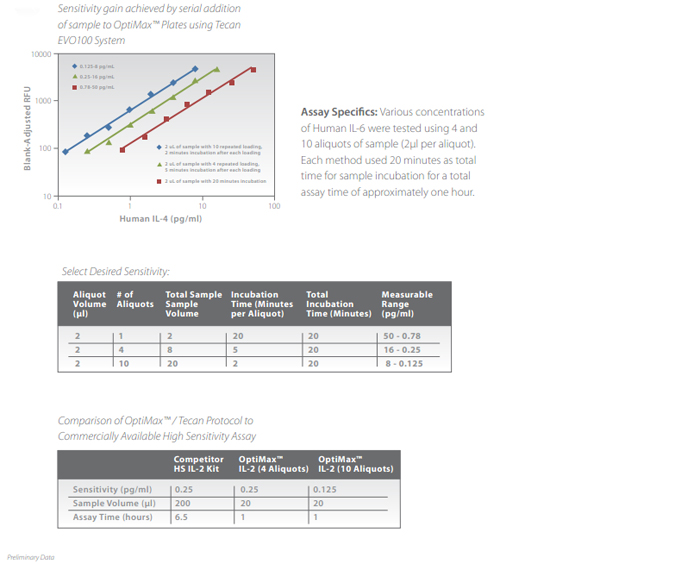 Freedom EVO is a registered trademark of Tecan Group Ltd., Switzerland